China's first 4K opera movie starts filming in Guangzhou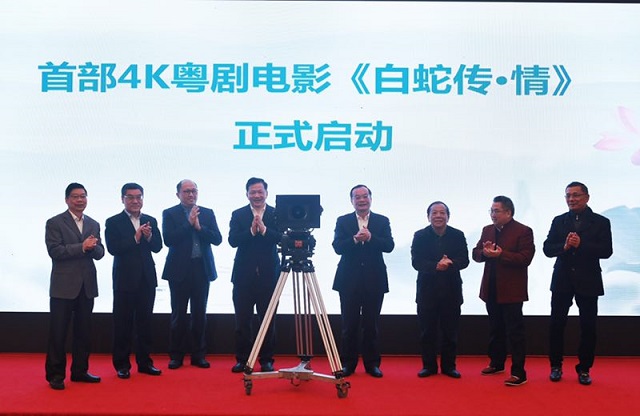 The launching ceremony of China's first 4K Cantonese Opera movie 'Madam White Snake - The Affection'
China's first 4K Cantonese Opera movie 'Madam White Snake - The Affection' started filming in Guangzhou, capital of south China's Guangdong Province, on Dec. 26, 2017. This is also the first 4K traditional Chinese opera movie in China.
On Dec. 26, the launching ceremony of 'Madam White Snake - The Affection' and 4K film industry chain was held by Zhujiang Film Group. Shen Haixiong, a standing committee member of the CPC Guangdong provincial committee and head of Guangdong's publicity department, Yuan Baocheng, vice governor of Guangdong, inaugurated the shooting at the ceremony.
Also, Zhujiang Film Group issued its development plan for 4K film industry chain. The statistics show that Guangdong owns the largest market for Chinese film consumption, accounting for one in seven of the country's box office takings each year. In recent years, Chinese consumers spend more on 4K films, while most 4K film sources are still imported.
"Guangdong should introduce and create more excellent programs, to make the province into a filmmaking and trade center for 4K film in China," said Shen at the Guangdong's 4K TV pilot program launching ceremony on Dec. 23, "We should discover and use our strengths to confirm the cultural confidence."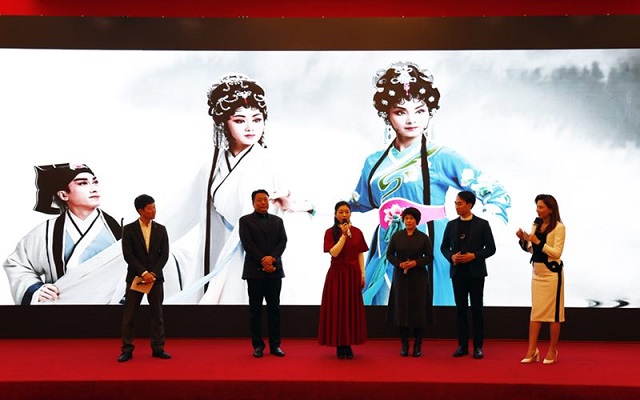 The launching ceremony of China's first 4K Cantonese Opera movie 'Madam White Snake - The Affection'
Based on the background of West Lake in Hangzhou, 'Madame White Snake' is a household love legend in China. The new adaption 'Madam White Snake - The Affection' is a key opera created and promoted by Guangdong Cantonese Opera Institute in recent years. Zeng Xiaomin, China's prominent young Cantonese Opera performing artist, acts the leading role in the opera with superb performances, because of which she won the Chinese Drama Plum Blossom Award, China's top award for drama.
According to Cai Fuqing, the chairman of Zhujiang Film Group, it is an initiative move to develop excellent traditional Chinese culture with advanced technology to establish 4K film industry chain and produce 4K Cantonese Opera movie. It helps Guangdong to take the lead in building a complete 4K film industry chain in the country.
On Dec. 23, Guangdong launched the 4K TV pilot program, the Guangdong 4K Television Program Production Center and Guangdong 4K Movie Program Production Center were established on the same occasion.
It is said that Zhujiang Film Group will partner with China Aerospace Construction Group, China Research Institute of Film Science & Technology and will introduce world-leading technology for 4K filmmaking in future.
Looking back at the history of China's film, we can see the convergence of traditional Chinese opera and movie:
In 1905, China's first home-made Peking Opera movie 'Dingjun Mountain' was released in Beijing, starring Tan Xinpei;
In 1948, China's first color Peking Opera movie 'Remorse at Death' was born in Shanghai, starring Mei Lanfang;
In late 1953, China's first color Shaoxing Opera movie 'The Butterfly Lovers' completed filming in Shanghai, starring Yuan Xuefen and Fan Ruijuan;
In late 2017, China's first 4K traditional Chinese opera movie 'Madam White Snake - The Affection' started filming in Guangzhou, starring Zeng Xiaomin. (By Monica &Will)